Your dental website is the primary factor that determines whether you are attracting new patients online or not.
Your website must be well-designed and optimized for search engine optimization (SEO) to rank on page 1 of Google in the search results and to influence a prospective new patient to call your office to schedule an appointment.
SEO web design means designing websites that are friendly to search engines. Including the following SEO best practices, like having a mobile-friendly experience, fast load times, and descriptive URLs. Doing this makes it easier for search engines to understand and rank a dentist's website in search results. Which leads to more site traffic, increased online visibility, and ultimately practice growth.
Design and SEO may seem like two different worlds, but they work together quite well. Designers create the visual aspects and functionality of a website. At the same time, by applying technical SEO, you can ensure the site can be found easily online. Both areas of web development are important in creating a successful website.
If you're thinking about having a website designed for your new dental practice or your older site redesigned it's essential to understand why search-friendly web design and SEO are essential components of your online presence. Together, they can significantly impact your clinic's bottom line.
Enhance Your Online Presence with Web Design for Dentists
Having an attractive, functional website is crucial for any dental practice looking to thrive. AMP Dental SEO specializes in dental website design, offering comprehensive web development services for dentists. Our team of expert website developers and web designers understand the unique needs of dental professionals, and we can create a stunning online presence that sets you apart from the competition.
Our dental website design services go beyond aesthetics. We prioritize SEO-friendly website design, ensuring your site looks great and ranks high in search engine results. With our in-depth knowledge of dental website SEO, we strategically incorporate relevant keywords into the structure and content of your site, improving your website's visibility, driving organic traffic, and attracting new patients to your practice.
At AMP Dental SEO, we take pride in our ability to deliver web development services that cater to the needs of dentists. Our team combines technical expertise with a deep understanding of the dental industry, resulting in websites that are visually appealing, user-friendly, and optimized for search engines. Whether you're a solo practitioner or a multi-location dental clinic, our website developers are equipped to create a custom solution that aligns with your brand and goals. Trust AMP Dental SEO to elevate your online presence and help your dental practice thrive in the digital realm. We're dedicated to elevating dental websites above the competition to help your practice grow and thrive.
Dental SEO Best Practices for Web Development & Design
Why choose AMP for your Dental Web Design and Development work?
The typical process of independent dentists working with cookie-cutter corporate dental website providers should be replaced with an integrated team of experts who approach website development with a customized approach based on your specific location and unique services.
At AMP Dental SEO, things are different. We take a consultative approach to partnering with our clients on their websites. While larger enterprise companies often employ salespeople who are more focused on making a sale and collecting commission than on the long-term success of your practice. As a result, it can be challenging and confusing to decide which options are best for marketing your practice online.
Your search for a dental website partner has come to a successful conclusion with AMP Dental SEO. Things are different here. We take a consultative approach to partnering with our clients on their websites and their digital marketing.
Since SEO and Web Design are so dependent on each other, you should start with a team that can weave together their areas of expertise. Both a developer and SEO should work together from the earliest stages of your job. This collaboration will assist the designer in creating a site style and structure that is SEO-friendly, as well as provide an opportunity for your dental SEO team to understand the content and details of the pages on your website. Working in tandem keeps the project flowing smoothly on a tight timeline.
For dental practices the best option is to work with a full-service digital marketing agency like AMP Dental SEO. We bring together a cohesive team of designers, developers, writers, and SEOs to collaborate on your project.
You can be sure the outcome will be a beautiful site with a good user experience built with the underlying technical execution to rank highly on page 1 of Google above dentists that you are competing with for the attention of new patients.
Get A Free Dental SEO Strategy Session
No sales pitch. No pressure to buy. Just valuable marketing insights to grow your practice.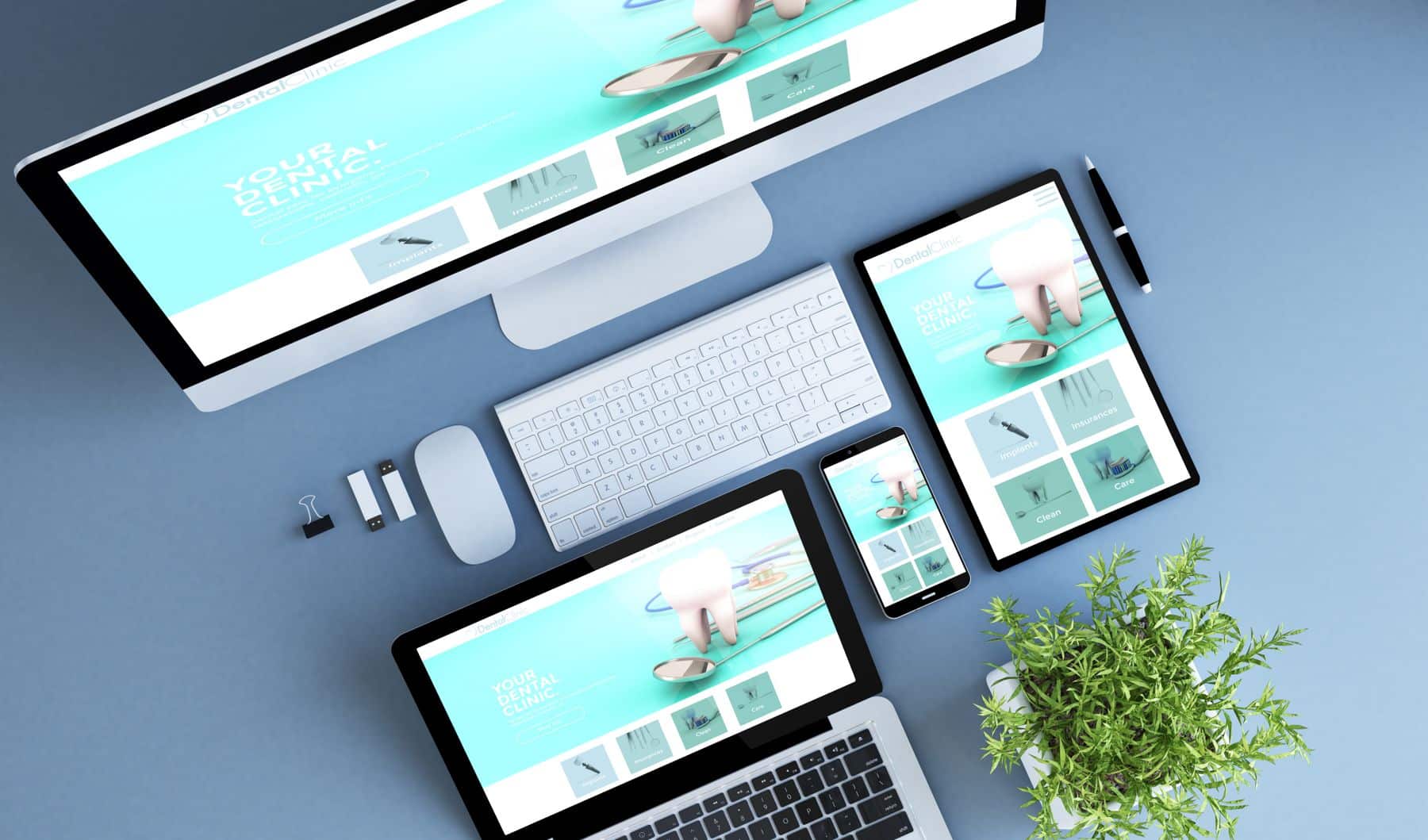 Why should you choose a web designer with SEO experience?
SEO and web design are interconnected – a poor web design can damage your SEO and vice versa. It is common for some developers to forget to set up 301 redirects when launching a new site or changing their domain name. As a result, their SEO progress disappears overnight.
SEO can have an impact on your web design choices. For example, if you want to optimize your site for search engines, you must consider factors like page speed and site architecture. Without proper SEO implementation, it can be harder to achieve a good ranking.
If you choose to partner with AMP, you can expect our web design team to weave smart Dental SEO techniques into your web design, supporting your overall digital marketing goals. If you don't integrate SEO into your website design, you'll often end up wasting time and money and hurting your rankings. 
8 Web Design Elements to Optimize for Dental SEO
Create Structured URLs: Each of your pages must have a detailed URL or link that describes the material on the page. Words need to be divided by hyphens and can consist of a couple of relevant keywords. Links with descriptive words (as opposed to random numbers and letters) will help internet search engines understand your web pages. They will also be much easier for your site visitors to remember.


Choose Your Code Wisely: Your site's design elements should be determined by your designer, but here are a few things to keep in mind for SEO purposes: most designers stick to HTML and CSS, and for a good reason. Flash sites can be notoriously challenging to optimize and may not rank well in search engines. Tell your designer to stay away from Flash for better SEO.


Employ Simple Navigation: Simple Navigation is one of the most essential components of a great customer experience. As a result, you need to keep it basic. The easier it is for your potential patients to find what they are looking for, the more likely they will be to call for an appointment. User-friendly navigation also lowers the odds that your site visitors will veer off track and leave your website, which can lower your bounce rates and, in turn, boost your rankings.


Boost Readability: To rank well, you will need masses of informative and optimized content. A design that only looks good with a few sentences of text will not work well with SEO. Select a design that has room for quite a bit of content. The readability of your text is also essential for a good user experience. It makes it easier for them to process the information on your website. If readability is poor, it can scare readers away from your content. On the other hand, good readability allows users to read and absorb your content quickly and easily.
Ensure Responsive Design: As more and more people use smartphones and other mobile devices to browse the internet, your website must be accessible to them. This will improve the user experience, but it will also help your website rank better on Google since mobile-friendliness is now a ranking factor. The best way to achieve this is through responsive design, making a website accessible on all devices and browsers. Responsive design also prevents duplicate content, which can occur if you have separate mobile and desktop versions of your site.


Small File Sizes: Although high-quality pictures are visually pleasing, your developer should maintain file sizes as small as possible without compromising the images. Using files that are too large decreases page load times, which supplies a poor user experience and increases your bounce rate. Fast load times are a ranking factor, so slow load times will harm your rankings.


Name your Images: Your images should all have descriptive, sensible file names. Even though it may call for more work than simply leaving them with titles like "IMG_0010. jpg", giving them proper descriptive names will help search engines "see" your images and put them into context for the reader.


Image Alt Tags: Your images must also have maximized alt tags in addition to their data names. These summaries help the online search engines determine what is being shown. Individuals can read it when they mouse over a picture. Alt tags help visually impaired individuals (and users whose internet browsers do not support your data) recognize what is being shown, which is very important for accessibility.
The partnership between web design and search engine optimization is an intricate one. If you have a new or established dental practice and are looking for a website designer, AMP Dental SEO is ready to help.
Contact us online or call us at 952-697-9831 for more information regarding our search engine optimization strategies and website design services for dentists!
Stay Connected with AMP Dental SEO